Agenda Alliance exists to make a difference to the lives of women and girls who are at the sharpest end of inequality. We advocate for women and girls who have multiple, complex needs that are not being met by public services – and sometimes by voluntary sector organisations.
We believe that all women and girls can thrive, and when those that have multiple unmet needs have not been responded to appropriately by services that are meant to support them, harm (or further harm) is caused.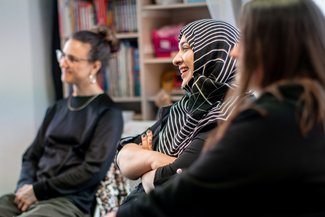 What we do
We believe that we can prevent women and girls from being swept into further trauma and harmful places and situations, such as abuse, prison, poverty and homelessness. Many face lifelong problems and end up trapped in a vicious cycle of trauma and harm. As a society we are failing women and girls by not providing protection or intervening early to stop problems escalating. Read some real stories of what this looks like in reality for women and girls.
We know that where public services are letting women and girls down, specialist voluntary sector organisations are filling the gaps and working hard to respond to the needs of women and girls who are experiencing overlapping forms of disadvantage. Therefore, we also advocate for the sector – and our Alliance members are the best of them. You can find out more about our Alliance here.
Our work consists of convening the Alliance, conducting research, campaigning and platforming the voices of women and girls. You can read our ambitious five-year strategy here.