Women and girls with multiple unmet needs are consistently left out of policy- and decision-making. Many of the services they rely upon are critically underfunded, reinforcing a cycle of trauma and disadvantage.
As Liz Truss becomes Britain's new Prime Minister, women and girls' needs must be reflected in policy decisions and government funding. In particular, immediate action must be taken to alleviate the impact of the increasing cost of living crisis on women and girls with multiple unmet needs, who are especially vulnerable to worsening levels of poverty.
To improve the lives of women and girls at the sharpest end of inequality, Agenda recommends these five key actions for the new Government:
The Minister for Women and Equalities to become a standalone cabinet position, leading a strategic focus with clear targets to reduce gender inequalities across the life course, including in childhood, adolescence and early adulthood.
The Department of Health and Social Care to lead on the development of a national women and girls' mental health strategy, with dedicated funding and provision to address experiences of trauma and the underlying causes of poor mental health for women and girls, delivered through both statutory services and specialist women and girls' provision.
The Ministry of Justice and Her Majesty's Prison and Probation Service to publish the promised Young Adult Women's Strategy, providing a comprehensive cross-government policy framework to respond to and prioritise investment in young women at all stages of the criminal justice system.
The Department for Education (DfE) to put in place measures to support the most disadvantaged girls as part of its ongoing plans for education recovery, ensuring no girls or young women are either formally or informally excluded from education through lack of appropriate support.
The Ministry of Justice to lead a programme of training for all criminal justice staff on culture, ethnicity, race, faith, gender and anti-racism to meet the multiple and intersecting needs of Black, Asian, minoritised and migrant women.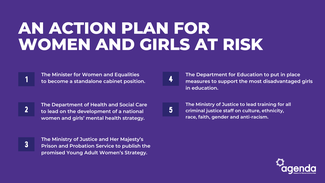 For more on Agenda's research and policy and practice recommendations to improve the lives of women and girls facing multiple unmet needs, please visit our projects and campaigns page, or to arrange a meeting contact our Policy and Public Affairs Officer, email tara@agendaalliance.org.